DESIGNERS & BUILDERS OF HIGH QUALITY STAMPING DIES SINCE 1946
Our high quality, close tolerance tooling includes line dies, progressive dies, and transfer dies for any industry. Greenville Tool & Die is experienced with the development of tooling for parts designed for advanced high strength and dual phase materials. Our tryout capabilities span to over 2,100 in sizes to 96" wide x 240" long. We are experts in the design and building of all types of metal stamping dies including draw dies, tube dies, blank dies, pierce dies, trim dies, and form dies.



Line Die - Line dies are used to make low-volume parts not requiring an automated tool or die. They may also be used to make large parts which are not practical to be run from several dies in a single press. These parts are then often run in "tandem line" presses combining automation to automatically move the parts between these presses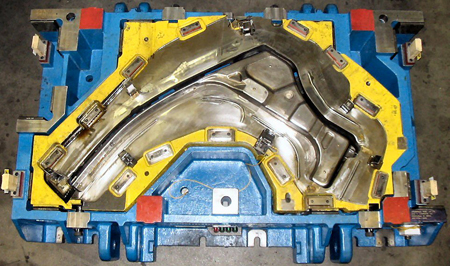 Progressive Die - for higher volume parts needing to run automatically at high rates of speed (strokes per minute). Greenville Tool & Die has designed and built hundreds of progressive dies for parts with a wide range of material thicknesses and coil widths. We also design to fit your press(es). We can also design to do curling and hemming. We can provide progressive dies to handle material thicknesses from as thick as 5.0mm (.200") high strength steel to as thin as 0.25mm (.010") thick aluminum and stainless steel.

Transfer Die - typically used for high volume, medium sized parts such as cowl panels, pillars, control arms, and heat shields. Our custom designed walking beam transfer dies can be used in tube applications as well as stamped parts.
Material thicknesses range from .254mm (.010") aluminum to 5mm (.200") steel. Greenville Tool & Die can design and build your transfer bars and fingers to fit your transfer system, or we can work with your automation supplier to integrate these with the dies we are designing and building for you. We also have experience with the building of gravity fed scrap removal systems either of shaker or conveyor type for through the press bolster, or off the edge of the bolster.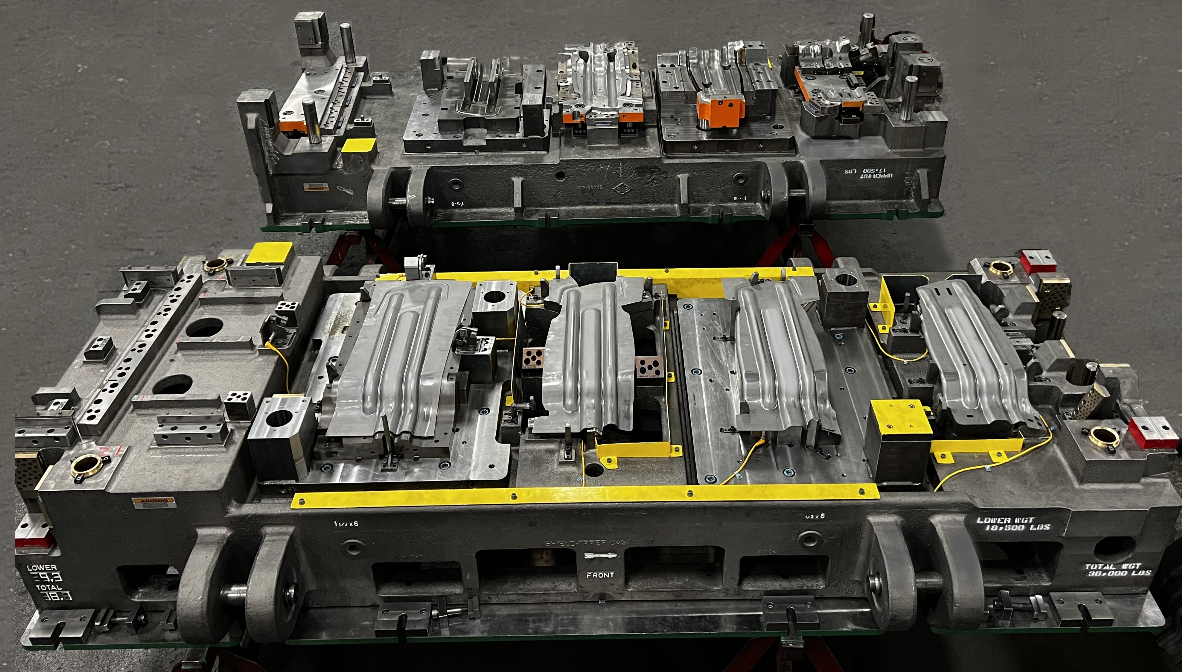 LIQUID IMPACT FORMING DIES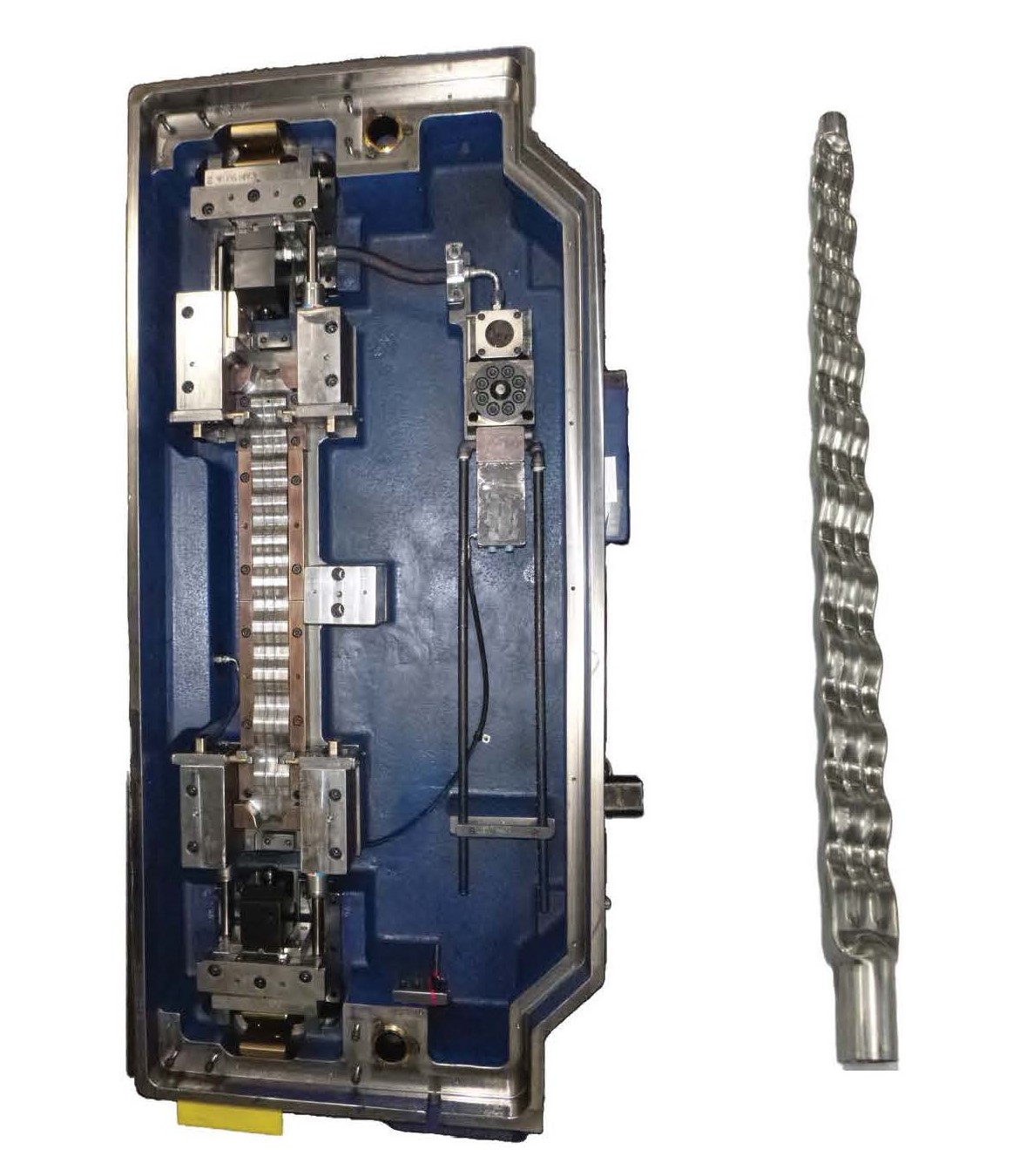 Automotive and other manufacturers have been investigating processes which reduce weight in their product, save material costs, speed production procedures, and still allow use of existing production stamping presses. After months of development, Greenville Tool & Die Company received a patent in May 1997 on our process called "Liquid Impact Tool Forming Mold," or LIF. This process, which is similar to "hydro-forming," is applicable to tubular parts. In addition to the advantages of weight reduction and material savings, LIF also allows normal stamping press cycle times, eliminates spot welding, reduces scrap, produces parts with more integrity, and promotes less total parts in an assembly. This patented process has also been proven to hold tighter tolerances than traditional metal stamping dies.
This process starts with a preformed tube with specially chamfered ends. It requires pre-bent tubes and a preform die. The preformed tube is then loaded into the Liquid Impact Forming Die which is filled with a non-corrosive lubricating fluid. Proximity switches sense proper location of the tube before the press can cycle. The tube fills with fluid and the ends are capped with a special sealing device as the press cycles. During cycling the tube is pressurized and formed. Upon completion, the pressure is mechanically released, and the part is removed from the die. The internal pressure is fully adjustable and can be released at any point near the bottom of the stroke.
What you should know about Liquid Impact Forming
Q: What is LIF (Liquid Impact Forming, Patent #5630334, 05/20/97)?
A: LIF is a similar process to hydro-forming except parts are produced in an existing mechanical stamping press and are not required to pause on bottom of stroke.
Advantages of LIF:
Requires only a production metal stamping press.
Production rate of parts from LIF dies are approximately 200-300 parts per hour.
All LIF pressures and forming components are contained within the die.
LIF dies can be in transfer with other stamping dies.
Parts with spot weld flanges can be produced in LIF dies.

Greenville Tool & Die handles all design requirements in-house utilizing a highly skilled two-shift Engineering Department featuring the following:
24 - CATIA V5 Workstations
18 - ENOVIA DMU Viewing Software
4 - 3DExperience 2022x Cloud
1 - ICEM Class A Surfacing Software
1 - NX18 With GM Toolkit
3 - Autoform Die Simulation Software
2 - Forming Suite Fast Blank Development Software
1 - Epson SC-T5200 36" Roll Printer
1 - Epson SC-T5200 36" Roll Printer with Colortrac SmartLF 36" Scanner
In-House Custom Software Development
1 - Smirt DieShop Viewing Software
1 - Kohler Power System 100 Generator
FTP Upload/Download Capabilities. We accept data in the following formats: STEP, IGES, NX, CATIA (V5 and V6).
Other Engineering Services
Catia V5 Die Design - Forming Simulation - Blue Light Scanning - Reverse Engineering - Process Layouts
Before assembly, every die detail is individually CNC Machined to precise specifications. This offers you the most cost-effective approach to your die repair needs by allowing replacement of individual steels rather than having to ship the entire die back to us. Our milling needs are handled by a wide range of machines:
2 - Okuma MCRBII Double Column Machining Center Travel X=196" Y=145" Z=31" W=51"
2 - Okuma MCV-AIIS Double Column Machining Centers Travel X=157" Y=78" Z=17" W=45"
1 - Okuma M660 3AX Machining Center
1 - Okuma MU-4000V 5AX Machining Center Travel X=29" Y=18" Z=18"
2 - Okuma MU-8000V 5AX Machining Center Travel X=36" Y=41" Z=23"
1 - Tarus Model HS3+2 90-84144/50 Machining Center Travel X=144" Y=114" Z=46"
2 - Okuma MC-60VAE Machining Centers Travel X=59" Y=25" Z=35"
2 - Okuma MD-650VB Machining Centers Travel X=60" Y=26" Z=30"
1 - Toyoda Bridge Mill Model SB316YM Travel X=120.5" Y=63" Z=31.5"
1 - Cincinnati Milacron 20VC-2000 Vertical Machining Centers w/MTI controller. Travel X=80" Y=30" Z=30"
1 - Lucas Boring Mill, Model 542B-65
1 - OKK Bed Type Vertical Mills
1 - Bridgeport Mills
Other CNC Machining Services:
Contract machining of die steels from small to large details - Wireburn and Jig Grinder Services - Blue Light Scanner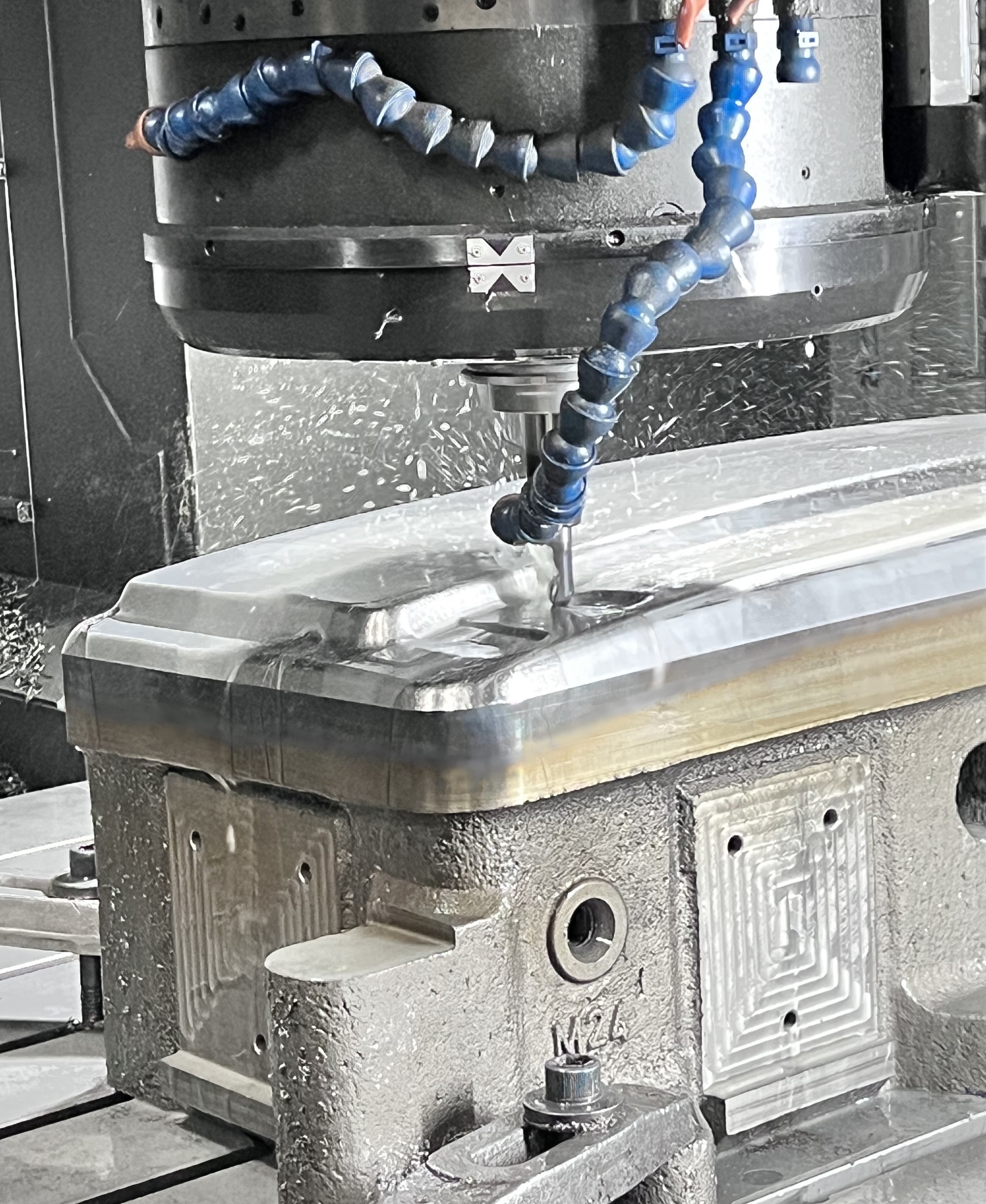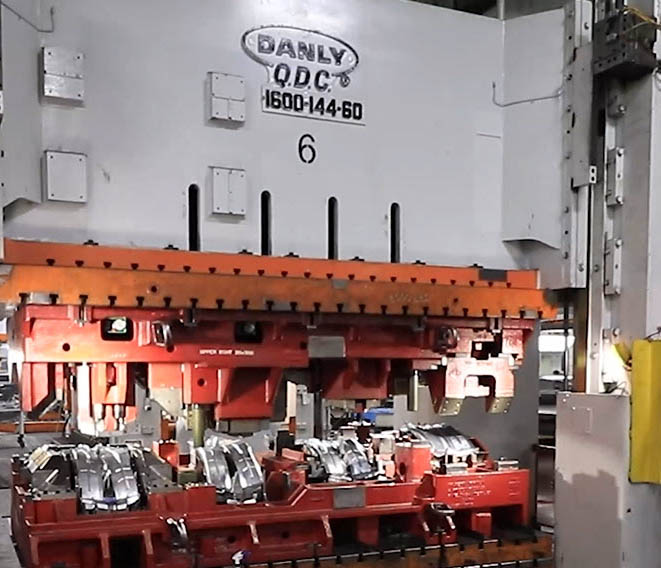 We have the tryout press capability to match our customers' needs. Computerized Autoform die simulation software facilitates the tryout process. Capability studies are conducted to ensure the customer's quality standards are met.
We are very experienced with both advanced high strength and dual phase materials and have tryout capabilities to over 2,100 tons accommodating dies up to 96" wide X 240" long. Simple and complex progressive dies from 24" X 36" to 72" X 200" and weighing more than 25 tons may have up to 6" draw depths and 12" - 15" pitches. We build 3-9 station transfer dies requiring ram tonnages to over 2,100 tons and up to 30 strokes per minute. Traditional transfer as well as walking beam type including servo drive control.
1 - Niagara 2200 Ton 96" X 240", SH 42"-60"
1 - Verson 2000 Ton 96" X 204", SH 44"-66"
1 - Niagara 1100 Ton 72" X 144", SH 22.75" - 47.5"
2 - Danly 800 Ton 72" X 144", SH 35" - 71.5"
3 - Danly 800 Ton 66" X 120", SH 18" - 41.25"
1 - Danly 1600 Ton 72" X 144", SH 44" - 62"
3 - Niagara 300 Ton 48" X 90", SH 28.75" - 39.87"/li>
1 - 400 Ton Hydraulic 72" X 87", SH 24.5" - 48"
1 - Dake 150 Ton Hydraulic 50" X 82", SH 15.5" - 46.37"
Our top priority is satisfying the customer with quality and delivery, and GTD personnel fully understand that "the customer always comes first." Our highly skilled craftsmen are known for their ability to work with the customer through all stages of a project. Capability studies conducted during the tryout process ensure that the customer's quality standards are met. To aid us in providing our customers with the highest quality, we utilize:
1 - Tarus CMM Inspection Machine Running PC-DMIS-2021 96" X 60" X 60"
1 - ATOS III Triple Scan 400 - Blue Light Scanner / Digitizer
1 - DEA GAMMA Coordinate Measuring Machine Running PC-DMIS-2010 59" X 40" X 26"
1 - Layout Inspection Machine w/ Soft-Mic Computer 70" X 200" X 60"
1 - DataMyte Computerized Data Collection System For SPC
1 - Creaform HandySCAN 700 with VXElements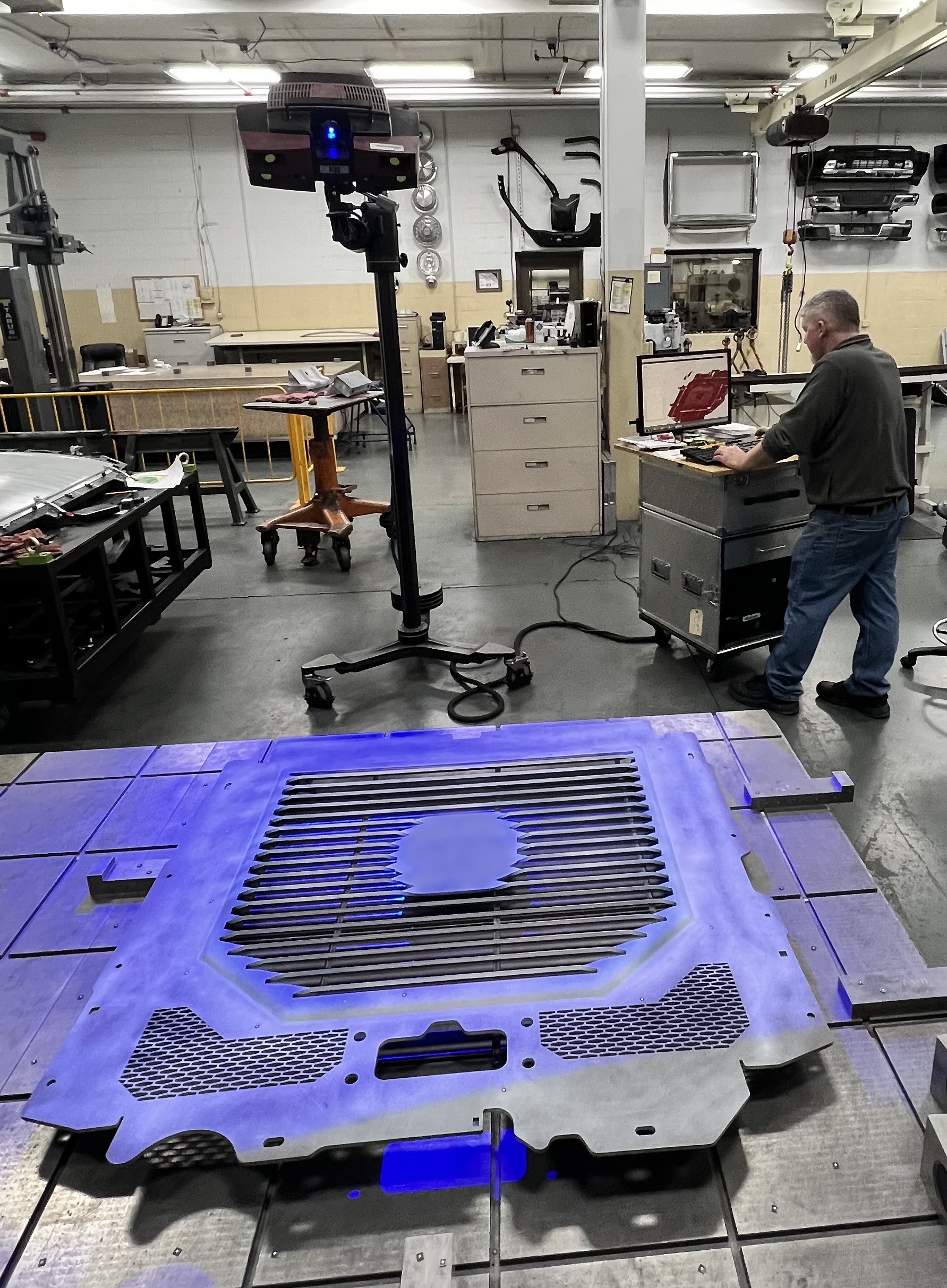 Grinders
1 - Mattison #24 Rotary Surface Grinder 42" Swing
2 - Gallmeyer & Livingston Surface Grinders
3 - Taft-Peirce #1 Surface Grinders
2 - Moore #3 Jig Grinders Retrofit with CNC Controller
1 - Hauser S55-400 High Precision CNC Jig Grinder X=51" Y=31.5" Z=25"
1 - Heald #72-A Internal & External Grinder
1 - Boyer-Schultz #2 Profile Grinder
1 - Kwik-Way Master Head Surfacer
1 - FlexArm Model M-60 Die Grinding Unit
Radial Drills
1 - Okuma Radial Drill, 80" Arms
4 - Ooya Radial Drills, 80" Arms
4 - Donau Radial Drills, DR 32, 24"
Electrical Discharge Machines
1 - ERM HPD-24
1- Charmilles Technologies Robofill 440 SL CNC Wire Burn Machine
Saws
1 - Marvel MV460 18" X 22" Vertical Band Saws
2 - DoAll Band Saws, 36"
1 - Everett Cutoff Machine, 20"
Lathes
1 - Mazak Tool Room Lathe, 24" X 96"
1 - LeBlond-Makino Tool Room Lathe, 15" X 54"
Miscellaneous
1 - Niagara Square Shear, 1/4" x 120"
4 - Miller Syncrowave 351 Welders
2 - Miller 450 Amp Arc Welders With Heliarc
2 - Miller CP 302 Wire Feed Welders
1 - Zoller Tool Setter
1 - Hamier Power Clamp and Speed Cooler
31 - Hoists (3-30 ton)
1 - Louis Small Metal Elongation Tester
Misc. Ductility, Rockwell Testers, and Plasma Cutters
1 - Lectroetch Circle Grid ◦Equipment for Steel & Aluminum
1 - MultiCam Model AP-204 CNC Plasma Blank Cutting Machine
2 - Cutter Grinding Machines
1 - Ultrasonic Hardness Tester
1 - Rocklinizer